Adobe Master Class: Advanced Compositing in Adobe Photoshop CC: Bringing the Impossible to Reality -- With Bret Malley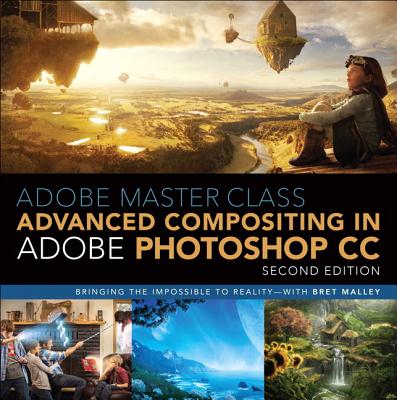 Huge savings for students
Each student receives a 50% discount off of most books in the HSG Book Store. During class, please ask the instructor about purchase details.
| | |
| --- | --- |
| List Price: | $54.99 |
| Price: | $27.50 |
| You Save: | $27.50 |
5 In Bret Malley's world, a father is suspended in the air among his baby's collection of toys . . . a big-box store and parking lot can be transformed into a scene of reclaimed nature . . . and an ordinary person can sculpt fire with his bare hands. And in Adobe Master Class: Advanced Compositing in Adobe Photoshop CC, Second Edition, Bret shares the techniques he uses to elevate an image from the everyday to the extraordinary, showing you how to make seemingly impossible scenarios come to life.
Designed as a comprehensive guide to compositing from start to finish, this book is divided into three sections. Section I provides an overview of Adobe Photoshop CC focusing on both basic and hidden tools and other features you need to master in order to create stunning composite imagery. Bret also shows you how to shoot high-quality photos for compositing, including tips for equipment and technique. Going beyond the mechanics of Photoshop, Section II leaps into hands-on action by guiding readers through the creation of four unique composites. These fun and informative step-by-step projects cover everything from the first planning sketches to the final finishing touches (using resources provided for download). In Section III, additional detailed project walkthroughs offer tips on everything from creating a superhuman to compositing an epic fantasy landscape. Interviews and spreads featuring established and emerging artists provide a range of inspirational imagery, creative insight, and professional know-how.