The Internet in Everything: Freedom and Security in a World with No Off Switch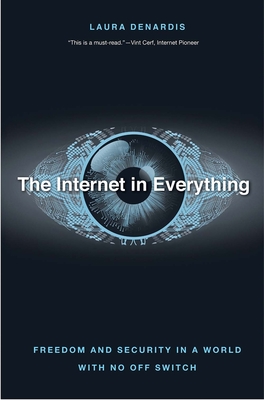 Huge savings for students
Each student receives a 50% discount off of most books in the HSG Book Store. During class, please ask the instructor about purchase details.
| | |
| --- | --- |
| List Price: | $32.00 |
| Price: | $16.00 |
| You Save: | $16.00 |
3A compelling argument that the Internet of things threatens human rights and security "Sobering and important."--Financial Times, "Best Books of 2020: Technology" The Internet has leapt from human-facing display screens into the material objects all around us. In this so-called Internet of things--connecting everything from cars to cardiac monitors to home appliances--there is no longer a meaningful distinction between physical and virtual worlds. Everything is connected. The social and economic benefits are tremendous, but there is a downside: an outage in cyberspace can result not only in loss of communication but also potentially in loss of life. Control of this infrastructure has become a proxy for political power, since countries can easily reach across borders to disrupt real-world systems. Laura DeNardis argues that the diffusion of the Internet into the physical world radically escalates governance concerns around privacy, discrimination, human safety, democracy, and national security, and she offers new cyber-policy solutions. In her discussion, she makes visible the sinews of power already embedded in our technology and explores how hidden technical governance arrangements will become the constitution of our future.