Indie Games: From Dream to Delivery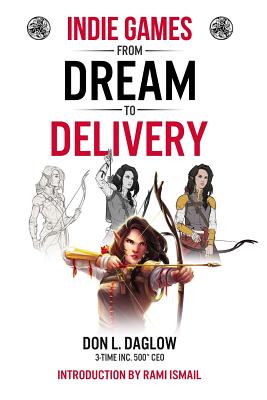 Huge savings for students
Each student receives a 50% discount off of most books in the HSG Book Store. During class, please ask the instructor about purchase details.
| | |
| --- | --- |
| List Price: | $29.99 |
| Price: | $15.00 |
| You Save: | $15.00 |
8Honors for Don Daglow's From Dream to Delivery books: Winner, 2019 Independent Press Book Awards Winner, Kirkus Top 100 Indie Books of 2019 Finalist, 2018 Foreword INDIES Book of the Year Awards Finalist, 2019 National Indie Excellence Awards Finalist, 2019 Next Generation Indie Book Awards Finalist, Book Excellence AwardsA Step-by-Step Master Class for Indie Game Designers and Programmers. from the Creator of the Emmy(R) Winning Neverwinter Nights(TM)"Don Daglow has survived 40+ years creating games and always retained his positive attitude. Learn from the master." - Jeff Braun, co-founder of Maxis (Sim City, The Sims)"I was impressed with the organizational wisdom. I wish that I had been able to read this book 30 years ago." -- Chris Crawford, pioneering game designer and Founder of the Game Developers Conference"Indie Games: From Dream to Delivery should be on the desk of everyone who's considering an indie game company. It builds a bridge between books on game development and 'How to Start Your Own Business' books. Daglow starts with holistic questions that cover not only nuts and bolts issues of your games and your business, but the kind of life you want for you and your team. I wish I could go back in time and hand this book to the leaders of several start-ups I've watched crash and burn; it might have made them successful. I'll be recommending it to all of my students with indie dreams." -- Prof. Stephen Jacobs, School of Interactive Games and Media, Rochester Institute of Technology (RIT)"5 OUT OF 5 STARS -- Indie Games: From Dream to Delivery is the best book to start with if you are considering developing your own game. Don L. Daglow brings you his years of experience in game design and development in a straightforward and comprehensive guide. He will show you a step by step method, proven techniques, and pitfalls to avoid... It makes no false promises... Daglow writes in a voice that is a cross between a patient sage under a Bodhi tree and a hardcore street philosopher strengthened by mixed realities... The insights and nuggets of truth you will acquire in Indie Games: From Dream to Delivery will temper your idealism with realism and] stoke the fires of your passion." - Readers' Favorite; August, 2019 The only indie games book that asks, "What do you want to do?" before it starts telling you, "Here's what you need to do."

Six sets of questions to review and refine your vision, skills and plans
Over 500 pages of "lessons learned" from a 3-time Inc. 500(TM) CEO and award-winning game designer
Based on Don Daglow's top-rated sessions at major games conferences around the world
Introduction by indie games pioneer Rami Ismail
The only person who can define the path to creating your indie game is you. Indie Games: from Dream to Delivery helps you do just that, by leading you through a guided conversation with yourself.Section by section, you'll record your answers to carefully chosen questions. Then we'll use your unique personal responses to build the customized roadmap you need to turn your indie game into reality.Techniques to use, traps to avoid, terminology to understand. And how to fit it all into your life without damaging your relationships or your future.Never started a business? We've got it covered. Skip what you already know, dig deeper on things you want to learn.It's the one book you need to take your indie game from Dream to Delivery.