ISTQB Foundation Sample Exam Questions Certified Tester Foundation Level (CTFL) 2018 Syllabus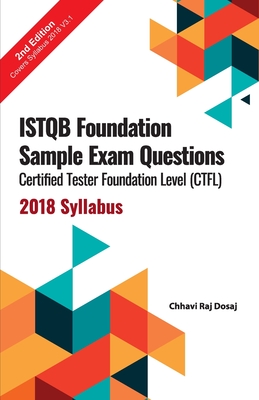 Huge savings for students
Each student receives a 50% discount off of most books in the HSG Book Store. During class, please ask the instructor about purchase details.
| | |
| --- | --- |
| List Price: | $24.99 |
| Price: | $12.50 |
| You Save: | $12.50 |
6This book is written specifically to prepare you for the ISTQB foundation certification exam (CTFL) based on the new 2018 V3.1 syllabus. This book presents three complete sets of tough sample exam questions and the solution chapters providing a detailed explanation for each answer for every question.This book covers exam concepts and provides key review on exam topics. The book has special tips and tricks to help you solve complex questions quickly in less time. This book will also help you to check your progress throughout your exam preparation and will provide confidence to face the real exam. Packed with practical tips this book can significantly increase your chances of correctly answering unfamiliar questions in exam. If you are looking to take the CTFL exam, this book is what you need for comprehensive content and robust study tools that will help you gain the edge on the exam.