Windows 11 Simplified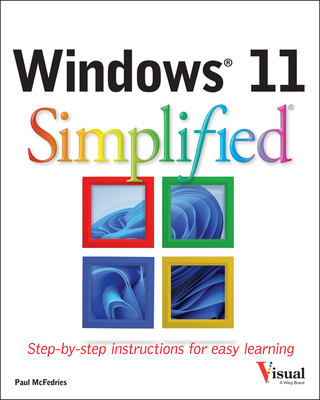 Huge savings for students
Each student receives a 50% discount off of most books in the HSG Book Store. During class, please ask the instructor about purchase details.
| | |
| --- | --- |
| List Price: | $25.00 |
| Price: | $12.50 |
| You Save: | $12.50 |
9
Learn Windows 11 quickly, easily, and with expert help from a tech education master
Windows 11 Simplified is your from-scratch beginner's guide to the ins and outs of the latest version of Windows. It's fully updated to include all the coolest new features of Windows 11 and offers a highly visual roadmap - complete with tons of screenshots and illustrations - to Windows 11 mastery. You'll get up to speed on the basic, and not-so-basic, features of Windows 11 with plain-English instructions and step-by-step screenshots that walk you through every technique you need to know to make Windows 11 do what you want it to do.
You'll learn to navigate the user interface, work with and manage files, create user accounts, and practice using the tools that make Windows 11 the most user-friendly and powerful version of the famous operating system yet. You'll also discover how to:
Master the basics, as well as a bunch of power-user tools, with easy-to-follow instructions
Learn your way around the interface, File Explorer, the Settings app, and more
Navigate the web, send emails, access online media, and chat with friends and family
Customize windows to look and feel exactly the way you want it to
With the right help, learning a new operating system can be fun, straightforward, and exciting. This book is perfect for everyone from those with no Windows experience at all to users of previous versions who just need a heads-up on the latest features. If you're ready to become a Windows 11 master, Windows 11 Simplified is the easiest and fastest way to do it.