Enterprise Java Development on a Budget: Leveraging Java Open Source Technologies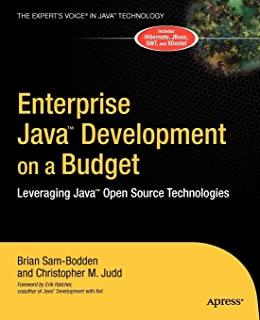 Huge savings for students
Each student receives a 50% discount off of most books in the HSG Book Store. During class, please ask the instructor about purchase details.
| | |
| --- | --- |
| List Price: | $49.99 |
| Price: | $25.00 |
| You Save: | $25.00 |
4
Open source has had a profound effect on the Java community. Many Java open source projects have even become de-facto standards. The principal purpose of Enterprise Java Development on a Budget is to guide you through the development of a real enterprise Java application using nothing but open source Java tools, projects, and frameworks.
This book is organized by activities and by particular open source projects that can help you take on the challenges of building the different tiers of your applications. The authors also present a realistic example application that covers most areas of enterprise application development. You'll find information on how to use and configure JBoss, Ant, XDoclet, Struts, ArgoUML, OJB, Hibernate, JUnit, SWT/JFace, and others. Not only will you learn how to use each individual tool, but you'll also understand how to use them in synergy to create robust enterprise Java applications within your budget.
Enterprise Java Development on a Budget combines coverage of best practices with information on the right open source Java tools and technologies, all of which will help support your Java development budget and goals.