MacOS Big Sur For Seniors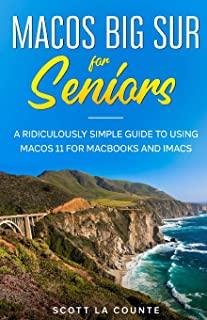 Huge savings for students
Each student receives a 50% discount off of most books in the HSG Book Store. During class, please ask the instructor about purchase details.
| | |
| --- | --- |
| List Price: | $24.99 |
| Price: | $12.50 |
| You Save: | $12.50 |
5
★★★ Switching from Windows to Mac? Let's make this as easy as possible! ★★★
Big Sur adds some powerful new features to macOS, which is fantastic news...if you know how to use them.
If you're like many adults, however, then your first computer was probably a Windows computer-or maybe it only had a command interface. For most of us, macOS is something a little new.
MacOS isn't complicated but switching from another operating system can be a little confusing at first. This guide is intended to help you make the switch.
In addition to showing you how exactly it works, it walks you through how you can still do all those Windows things you have grown to love.
This book is intended for people who want to get started quickly with the OS. For that reason, it's not as comprehensive as other guides. It covers the most popular features, but not how to do configurations you probably have never heard of and will never want to do.
I purposely have done my best to make this handbook a little more casual and fun than what you expect from most macOS manuals. MacOS is a fun operating system, and any guide you read should be an equally fun read.
Some of the covered features include:
What's new to macOS Big Sur
How you do all those Windows "things" on a Mac
Apple Services (Apple Music, Apple News, iCloud, Apple Card, Apple Arcade, Apple TV+)
Using Siri
How to find things / how to organize things to make them easy to find
Setting up Internet and Email
Using Sidecar
Using Control Center
Parental Controls
Downloading / Updating apps
Organizing photos
Using Safari
Protecting your privacy
Managing your passwords
Using Maps
Making phone calls
Sending, replying, and pinning messages
Multitasking
And much, much more!
Are you ready to start enjoying the new macOS? Then let's get started!
Note: This book is based off of MacOS Big Sur: Getting Started with MacOS 11 for MacBooks and iMacs but has expanded discussion of accessibility features. It is not endorsed by Apple, Inc. and should be considered unofficial.