Linux: This Book Includes 4 Manuscripts. The Underground Bible to the UNIX Operating System with Tools On Security and Kali H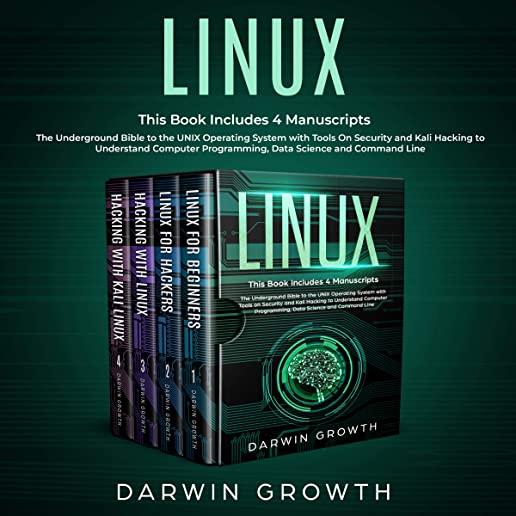 Huge savings for students
Each student receives a 50% discount off of most books in the HSG Book Store. During class, please ask the instructor about purchase details.
| | |
| --- | --- |
| List Price: | $25.95 |
| Price: | $12.98 |
| You Save: | $12.98 |
1
If you are looking for a complete guide on how to install, configure, and use Linux as operating system, and a simple, step-by-step method for becoming a hacker, then keep reading...
4 Books in 1
This Book Includes:
Linux for Beginners
Linux for Hackers
Hacking with Linux
Hacking with Kali Linux
Linux is a free and freely distributed operating system inspired by the UNIX system, written by Linus Torvalds with the help of thousands of programmers.
Unlike other operating systems, such as MacOS (Apple operating system), UNIX is not intended to be easy to use, but to be extremely flexible. It is generally as easy to use as other operating systems, although great efforts are being made to facilitate its use.
This operating system is an option to be taken into account by those users who are dedicated to work through networks, devote to programming, or learn hacking techniques.
Especially for hackers, Linux is the best operating system on the market because it allows to perform a wide variety of tasks and transform your computer into an incredible hacking machine.
Learn the hacking skills requires time. However, everything is possible with the correct guide and a lot of useful information. If you are ready to learn how to hack with Linux, then this book is your best bet.
This is a detailed guide to learn all the principles of hacking and how to turn your Linux system into an unstoppable machine
You'll learn:
Basic system concepts
How to understand the user interface
How to handle possible mistakes and errors
How the operating system architecture works
Basics of Linux and Hacking
How to use Linux commands
The correct hacking procedure
Web and network hacking tools
Ethical and unethical parts of hacking
The hierarchy of hackers
How to prevent cyber-attacks and malwares
Cyber-security and cryptography
Why is Kali Linux the best option for every hacker

And much more
Even if you are a complete beginner on programming this book will give you the correct information to understand the subject and start practicing today
As you reach the end of the book, you shall have a clearer picture of how the working environment works. The book has clear, simple explanations that can be easy to understand and thus, your journey towards learning how to hack shall be simplified.
Start your journey Develop underground hacking skills and turn your Linux system into a powerful, unbreakable, and unstoppable machine
Get This Book Today, Scroll Up and
Click the Buy Now Button