Fusion 360 for Makers: Design Your Own Digital Models for 3D Printing and Cnc Fabrication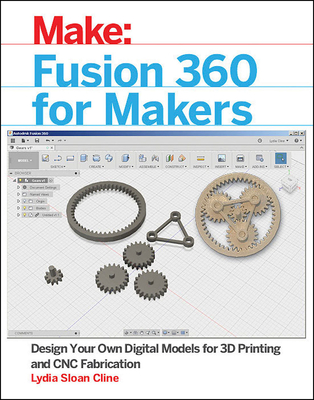 Huge savings for students
Each student receives a 50% discount off of most books in the HSG Book Store. During class, please ask the instructor about purchase details.
| | |
| --- | --- |
| List Price: | $29.99 |
| Price: | $15.00 |
| You Save: | $15.00 |
3
Learn how to use Autodesk Fusion 360 to digitally model your own original projects for a 3D printer or a CNC device. Fusion 360 software lets you design, analyze, and print your ideas. Free to students and small businesses alike, it offers solid, surface, organic, direct, and parametric modeling capabilities.

Fusion 360 for Makers is written for beginners to 3D modeling software by an experienced teacher. It will get you up and running quickly with the goal of creating models for 3D printing and CNC fabrication.

Inside Fusion 360 for Makers, you'll find:


Eight easy-to-understand tutorials that provide a solid foundation in Fusion 360 fundamentals
DIY projects that are explained with step-by-step instructions and color photos
Projects that have been real-world tested, covering the most common problems and solutions
Stand-alone projects, allowing you to skip to ones of interest without having to work through all the preceding projects first

Design from scratch or edit downloaded designs. Fusion 360 is an appropriate tool for beginners and experienced makers.