RHCSA Red Hat Enterprise Linux 8: Training and Exam Preparation Guide (EX200), First Edition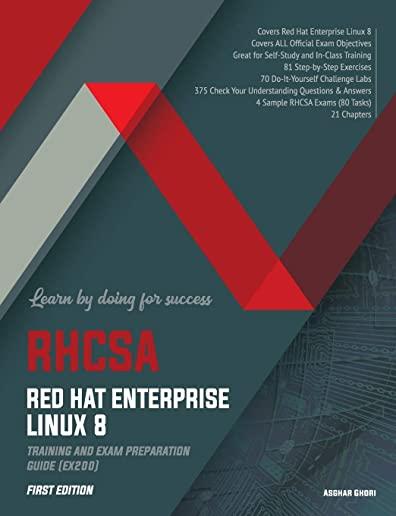 Huge savings for students
Each student receives a 50% discount off of most books in the HSG Book Store. During class, please ask the instructor about purchase details.
| | |
| --- | --- |
| List Price: | $44.99 |
| Price: | $22.50 |
| You Save: | $22.50 |
7
Highlights:
> Covers Red Hat Enterprise Linux 8
> Covers ALL official exam objectives for the RHCSA exam based on Red Hat Enterprise Linux 8
> Equally good for self-study and in-class training
> 81 Step-by-Step exercises
> 70 Do-It-Yourself Challenge Labs
> 375 Check Your Understanding Questions & Answers
> Concepts explained with diagrams
> Commands and options summarized in tables
> Exam tips included
> 4 Unique Sample RHCSA Exams
This book has 21 chapters that are organized logically. It covers the topics on local RHEL 8 installation; initial interaction with the system and basic commands; compression and archiving; file editing and manipulation; standard and special permissions; file searching and access controls; user monitoring and authentication files; users, groups, and password aging; bash shell features and startup files; processes and task scheduling; basic and advanced software administration techniques; system boot process and bootloader; kernel management and system initialization; logging and system tuning; basic and advanced storage management tools and solutions; local and remote file systems and swap regions; network device and connection configuration; time synchronization and hostname resolution; the secure shell service; and firewall and SELinux controls.
Each chapter highlights the major topics and relevant exam objectives at the beginning, and ends with review questions & answers and Do-It-Yourself challenge labs. Throughout the book, figures, tables, screen shots, examples, and exam tips have been furnished to support explanation and exam preparation. This book includes four sample exams for RHCSA, which are expected to be done using the knowledge and skills attained from reading the material and practicing the exercises and challenge labs. The labs and the sample exams include references to relevant topics and/or exercises.