Online Teaching Tools: 3 Manuscripts: Google Classroom, Google Apps, Teaching with Zoom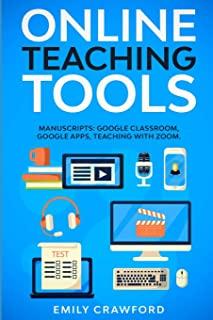 Huge savings for students
Each student receives a 50% discount off of most books in the HSG Book Store. During class, please ask the instructor about purchase details.
| | |
| --- | --- |
| List Price: | $26.00 |
| Price: | $13.00 |
| You Save: | $13.00 |
9
Nowadays, we are constantly working online, and most of the old office tools have become obsolete, in favor of online tools. But using these tools in an effective way is not so easy. You have to deal with a lot of features, and most of them are hidden, or unreachable, or you simply don't know how to perform simple tasks that you have already done using desktop applications. As a teacher, I know that there are a lot of feature that are not easy to find nor to use. Google Classroom, Google Apps and Zoom, specifically, are the most powerful online tools, and they come basically for free, but you need to know how to use them if you want to go fast and without wasting time learning trough experience. So, I've wrote this book to help you to know them deeply, even their hidden features.
In this book you will learn:
All the features provided by Google Classroom and related tools, using simple step-by-step procedures and screenshots
How to make Assignments, Announcements, Gradings, and enable students to communicate with each other
Why going Paperless will help you as a Teacher
How to have an Anxiety-Free Classroom and enhance the environment
What are the most powerful Google Apps, and how to use them
How to store, synchronize and share files and folders using Google Drive
How to write, edit, format, and share Text Documents with Google Docs
Create powerful Spreadsheets with Google Sheet
Creating, Sharing and Collaboration on Presentations with Google Slides
How to create and manage your schedule, events and reminders with Google Calendar
How to use Google Forms
How to use Google Photos
How to manage your list and notes with Google Keep
Discover the secret benefits of using Gmail
What is Zoom and why is so Important to perform Online Meetings
The History of Zoom from the early years to now, and its role during Pandemic
How to use Zoom for Distance Learning
What is the best Pricing Plan for Teaching
Equipment Needed to Smoothly Use Zoom for Effective Learning
Discover all the Features of the App, the most important ones, and why you should use them
How to Set Up and Conduct Virtual Classes
How to Set up An Assignment or Discussion Board
How to Record a Class for future usage
How to Avoid Noise in the background
How to use the Virtual Whiteboard
A selection of the most important Tips & Tricks
... and so much more
Even if you think that most of these pieces of information can be found on the Internet, you'll find that it is totally untrue because this book is the result of a profound work of research done directly with teachers.