Coding For Kids: 2 Books In 1: Python For Kids And Scratch Coding For Kids. A Beginners Guide To Computer Programming. Have Fun And Lea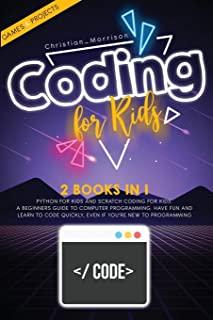 Huge savings for students
Each student receives a 50% discount off of most books in the HSG Book Store. During class, please ask the instructor about purchase details.
| | |
| --- | --- |
| List Price: | $23.95 |
| Price: | $11.98 |
| You Save: | $11.98 |
7
What about a book that would make your kid (or you) engage, have fun, and learn at the same time?
Would you like your kid to have a secure career path?
Is your kid (or you) already interested in computer programming or just loves to use a computer for some free time activities?
If you answered "Yes" to at least one of these questions, then keep reading...
LEARNING PROGRAMMING HAS NEVER BEEN EASIER!
It is not a secret that the world is leading more and more towards science and technology, and the demand for IT and computer programming professionals are higher than ever before!
And, of course, there are so many tools out there you can use to sparkle your kid's talents and needs early on! And one of the best options I know of is computer programming - one of the highest in-demand skills every kid should learn, especially the ones who love to spend hours in front of PC or Mac screen. And trust me, it doesn't have to be boring!
Inside this 2 Books in 1 you will find:
BOOK #1: Python For Kids
One of the most popular and widely used programming languages around the world! And it is not as difficult as it may sound!
If presented correctly, even Your Kids Can Easily Learn It! As young as 7 or 8 years old, sometimes even younger!
Inside this book, you'll find a perfect introduction to Python Programming that will make your kid excited every time he or she sits down in front of the computer.
The best way to start - Python Programming for beginners
Master the fastest way to create outstanding graphic images
What are the most important functions of Python Language, and how to master them fast?
Game programming - probably the most fascinating chapter!
Endless project ideas to begin today that will keep beginners engaged for hours
How avoid errors? Every upcoming Python Programmer should read this chapter!
Much much more...
BOOK #2: Scratch Coding For Kids
You'll discover a guide of arguably the best programming languages for children, specifically designed for kids who want to get their foot in the programming world!
The easiest way to get started with Scratch - Scratch Programming for Beginners
Master fundamentals - you can't skip this important chapter!
Everything kids need to know before starting their first successful project
How to create a plan for your future programming project?
Is Scratch just a game coding platform? Find out about other areas your kid could use it for!
What game should you choose - day and night game options
More Advanced Concepts about coding with Scratch
Much much more...
And keep in mind that with this book, you don't need to have any previous coding or programming experience.
Whether it is going to be a gift for your kid or you want to master coding yourself, this book will definitely help you build a strong foundation for this huge career opportunity!
So don't wait, get this book today and Begin This Fascinating Learning Journey!