Learn Excel 365 Expert Skills with The Smart Method: Second Edition: updated for the July 2019 Semi-Annual version 1902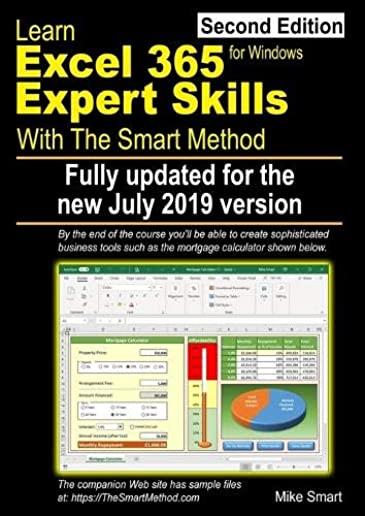 Huge savings for students
Each student receives a 50% discount off of most books in the HSG Book Store. During class, please ask the instructor about purchase details.
| | |
| --- | --- |
| List Price: | $29.99 |
| Price: | $15.00 |
| You Save: | $15.00 |
2
THERE IS A NEWER EDITION OF THIS BOOK
Microsoft release a new Excel 365 semi-annual version every six months (in January and July) that is usually automatically updated on your computer. You need the fifth edition of this book to support the current version.
This book (the second edition) was written to support the Excel 365 - July 2019 version.
The fifth edition of this book supports the Excel 365 - Jan 2021 version
To find the fifth edition of this book search for:
Learn Excel 365 Expert Skills with The Smart Method: Fifth Edition
ISBN: 978-1-909253-48-3
Unless you have a special need for the older version we recommend that you do not purchase this book but, instead, purchase the up-to-date version above.
Companies who have taken Smart Method courses include:
AOL Time Warner, The United States Army, Daimler Chrysler, Motorola, HSBC, Barclays, American Express, Allied Irish Banks, Imperial Tobacco, Volvo, The BBC, British Petroleum, The Foreign and Commonwealth Office, Unilever, The Institute of Chartered Accountants, The Ministry of Defence, Keele University, Deutsche Bank, HBOS, Transport For London, The Performing Rights Society, Scottish Power, The Office of the Parliamentary Ombudsman, BAE Systems, Marks & Spencer, Virgin, O2, BMW... and many, many others.