Blockchain: Bitcoin, Ethereum, Cryptocurrency: The Insider's Guide to Blockchain Technology, Bitcoin Mining, Investing and Trading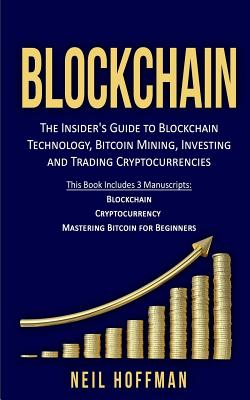 Huge savings for students
Each student receives a 50% discount off of most books in the HSG Book Store. During class, please ask the instructor about purchase details.
| | |
| --- | --- |
| List Price: | $25.99 |
| Price: | $13.00 |
| You Save: | $13.00 |
1Discover the book which will cover everything from a simple "What is Bitcoin, and What is blockchain" to the advanced bitcoin coding and blockchain programming.
Now there might be some questions playing on your mind like:
What is Bitcoin?
Why should I care?
What the heck is blockchain?
Is it secure?
What can Bitcoin do that the dollar can't?
Who benefits?
How can I make money with Cryptocurrency?
Are Bitcoin and other cryptocurrencies doomed to fail?
Also, are you worried that it's too technical and that you will never understand the concepts?
Do you suffer from future shock, but are looking for a reason to be optimistic?
Do you see the possibility of something new and beautiful, but are unsure of it or how to articulate it to friends? Then you have found the perfect book.
In this book, we'll look at the answers to all these questions along with addressing how I made millions of dollars trading bitcoin and other cryptocurrencies in 6 months.
"Perfect for fans of Nathaniel Popper and Andreas M. Antonopoulos."
"We've got a really big bet on the blockchain, that is some of the most disruptive technology we've seen since electricity. When that starts to come, I think there's going to be a host of new models that come out of that ... that's where we probably get excited about what's the next bet."
- Jeff Schumacher, Founder, and Chief Executive Officer, BCG Digital Ventures
"I do think Bitcoin is the first [encrypted money] that has the potential to do something like changing the world."
- Peter Thiel, Co-Founder of PayPal
"So my view's quite clear. I believe cryptocurrencies, bitcoin is the first example, I believe they're going to change the world."
- Richard Brown, Executive Architect at IBMM
Final Words:
Even if you think you know everything discussed here, give this book a shot. It's an informative and entertaining read, and you may pick up some valuable tools and new ways of thinking you've never read or heard of before.
Would You Like to Know More?
Scroll to the top and click that yellow button, and Get your copy Today!
See you inside!
Createspace Independent Publishing Platform