Meaningful Futures with Robots: Designing a New Coexistence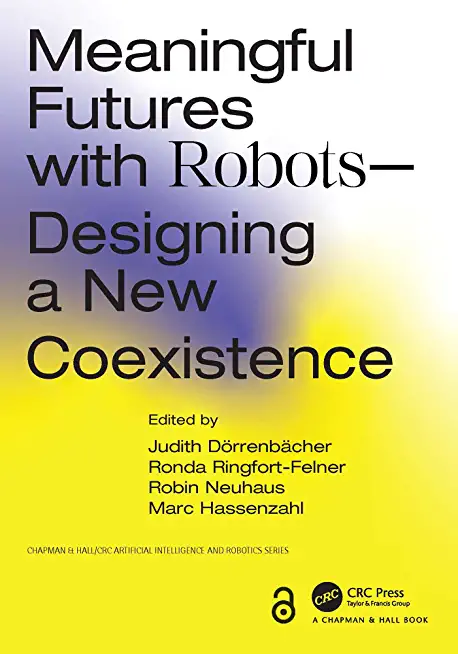 Huge savings for students
Each student receives a 50% discount off of most books in the HSG Book Store. During class, please ask the instructor about purchase details.
| | |
| --- | --- |
| List Price: | $59.95 |
| Price: | $29.98 |
| You Save: | $29.98 |
1
Soon, robots will leave the factories and make their way into living rooms, supermarkets, and care facilities. They will cooperate with humans in everyday life, taking on more than just practical tasks. How should they communicate with us? Do they need eyes, a screen, or arms? Should they resemble humans? Or may they enrich social situations precisely because they act so differently from humans?
Meaningful Futures with Robots: Designing a New Coexistence provides insight into the opportunities and risks that arise from living with robots in the future, anchored in current research projects on everyday robotics. As well as generating ideas for robot developers and designers, it also critically discusses existing theories and methods for social robotics from different perspectives - ethical, design, artistical and technological - and presents new approaches to meaningful human-robot interaction design.
Key Features:
Provides insights into current research on robots from different disciplinary angles with a particular focus on a value-driven design.
Includes contributions from designers, psychologists, engineers, philosophers, artists, and legal scholars, among others.
Licence line: Chapters 1, 3, 12, and 15 of this book are available for free in PDF format as Open Access from the individual product page at www.crcpress.com. They have been made available under a Creative Commons Attribution-Non Commercial-No Derivatives 4.0 license.