QuickBooks 2022 All-In-One for Dummies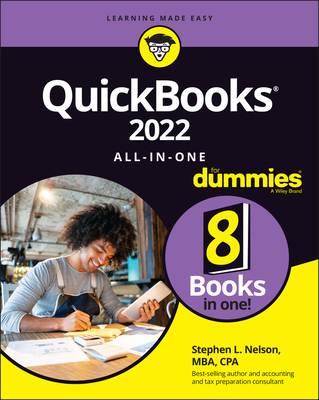 Huge savings for students
Each student receives a 50% discount off of most books in the HSG Book Store. During class, please ask the instructor about purchase details.
| | |
| --- | --- |
| List Price: | $34.99 |
| Price: | $17.50 |
| You Save: | $17.50 |
8
The soup-to-nuts QuickBooks reference that will make your small business life so much simpler!
QuickBooks makes it quick to do your books, and QuickBooks 2022 All-in-One For Dummies makes it easy. The leading small business accounting software will become your best friend, helping you cut costs (no more expensive financial services) and save time, with all your accounting and payroll info in one place. With this value-priced, bestselling reference, you've got access to 8 mini-books that give you the answers you need to make running a small business that much more manageable.
Inside, you'll discover the key features of QuickBooks, plus refresh your memory on double-entry bookkeeping and all the other basics of small business accounting. This jargon-free guide shows you, step-by-step, how to plan your perfect budget, simplify tax returns, manage inventory, create invoices, track costs, generate reports, and accurately check off every other financial task that comes across your desk!
Get the most out of QuickBooks 2022, including all the latest features and updates
Sharpen your finance and accounting know-how with a friendly rundown of the must-knows
Keep yourself in business with a solid budget, a world-class business plan, and clean payroll
Take the headache out of tax time with QuickTime's automated tax preparation
QuickBooks All-in-One 2022 For Dummies is the trusted go-to that will save you time and allow you to focus on the business of running your small business!