McGraw Hill's National Electrical Safety Code (Nesc) 2023 Handbook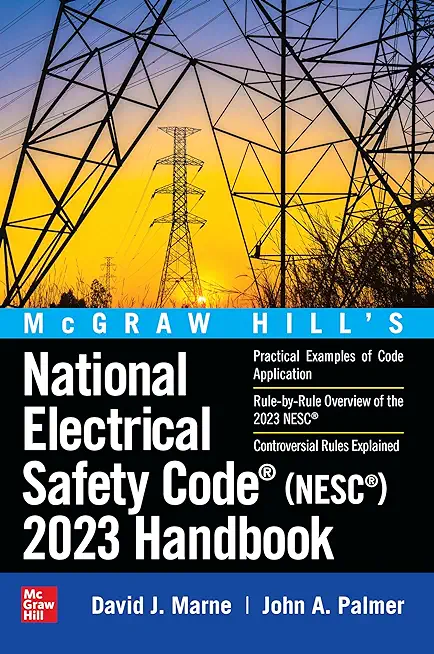 Huge savings for students
Each student receives a 50% discount off of most books in the HSG Book Store. During class, please ask the instructor about purchase details.
| | |
| --- | --- |
| List Price: | $87.00 |
| Price: | $43.50 |
| You Save: | $43.50 |
6
Up-to-date, rule-by-rule clarification of the requirements in the 2023 NESC(R)
Designed to be used alongside the code itself, McGraw Hill's National Electrical Safety Code(R) (NESC(R)) 2023 Handbook has been fully updated to reflect the changes in the 2023 NESC. You will gain access to straightforward, ready-to-apply code clarification, enabling you to work safely and efficiently, and achieve full compliance. The book offers concise summaries of complicated and confusing issues as well as hundreds of diagrams, photos, and practical examples.
COVERAGE INCLUDES:
General Sections:
Introduction * definitions * references * grounding methods
Safety Rules for the Installation and Maintenance of Electric Supply Stations and Equipment:
Purpose and scope * protective arrangements * installation and maintenance * rotating equipment * storage batteries * transformers and regulators * conductors * circuit breakers and other equipment *switchgear * photovoltaic generating stations
Safety Rules for the Installation and Maintenance of Overhead Electric Supply and Communication Lines:
Purpose and scope * general requirements * classes of lines and equipment * clearances * grades of construction * structural loadings * strength requirements * line insulation
Safety Rules for the Installation and Maintenance of Underground Electric Supply and Communication Lines:
Purpose and scope * general requirements * underground conduit systems * supply cable * cable in underground structures * direct-buried cable and cable in duct * risers * terminations * equipment * installation in tunnels
Work Rules for the Operation of Electric Supply and Communication Lines and Equipment:
Purpose and scope * employer rules * employee rules * additional rules for communication employees * additional rules for supply employees