OneStream Financial Close Handbook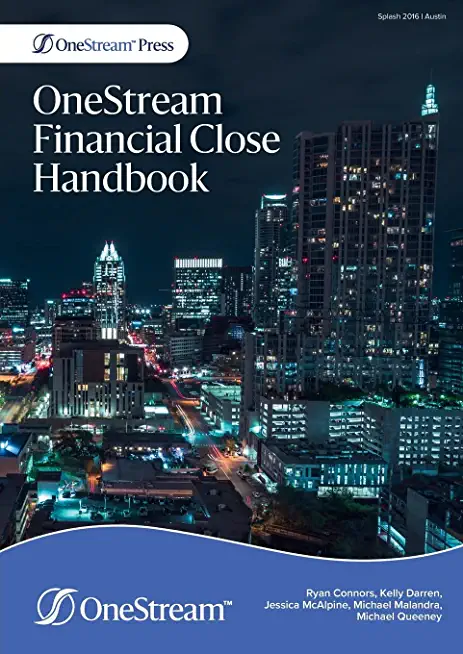 Huge savings for students
Each student receives a 50% discount off of most books in the HSG Book Store. During class, please ask the instructor about purchase details.
| | |
| --- | --- |
| List Price: | $84.99 |
| Price: | $42.50 |
| You Save: | $42.50 |
1
OneStream provides a market-leading Intelligent Finance Platform that reduces the complexity of financial operations. It unifies corporate performance management (CPM) processes such as planning, financial close & consolidation, reporting and analytics through a single, extensible solution.
The OneStream Financial Close Handbook-written by expert authors-is a practical book for implementors, administrators, and end-users, that dives into the Financial Close with a specific focus on the Account Reconciliations and Transaction Matching solutions.
The Account Reconciliations solution is a complete package that plugs into the Financial Close Workflow to leverage data that already resides within the consolidation application, whilst Transaction Matching helps accounting teams automate the collection and matching of large numbers of transactions across multiple sources.
With these solutions, OneStream Financial Close delivers the four key pillars of a good reconciliation process: Visibility, Standardization, Efficiency and Control.
In this book:
Get a better understanding of the Financial Close process, and how OneStream delivers a streamlined, automated solution.
Learn how to implement Account Reconciliations through detailed project phases, and accompanying case studies.
Get to grips with the administration of Account Reconciliations, including settings, security, and auditing.
Deep dive into the Account Reconciliation Solution from the End User's perspective, including how to prepare a Reconciliation, the sign-off and approval process, and overall reporting and monitoring capabilities.
Learn what Transaction Matching is, plus how to build, test, and implement OneStream's highly automated system.
Understand how to administer Transaction Matching through global options, access control, match sets, data sets, rules, and more!
Table of Contents
Chapter 1: Account Reconciliations Overview
Chapter 2: Account Reconciliations Administration
Chapter 3: Account Reconciliations Implementation
Chapter 4: Using Account Reconciliations
Chapter 5: Transaction Matching Overview
Chapter 6: Transaction Matching Administration
Chapter 7: Transaction Matching Implementation
Chapter 8: Using Transaction Matching
Authors
Ryan Connors, Kelly Darren, Jessica McAlpine, Michael Malandra, and Mike Queeney.