IT and Business: Breaking the Communication Barriers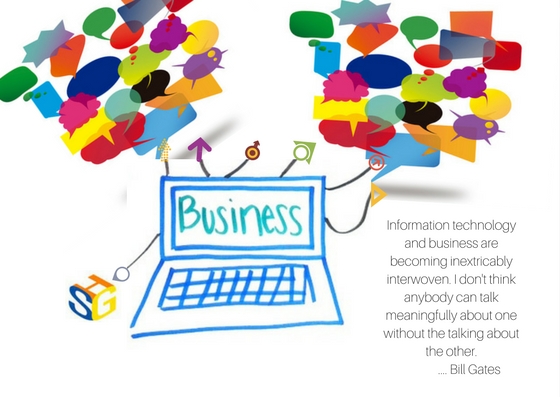 Information Technology (IT) tools are here to support your business in the global market. Effective communication is key for IT and business experts to collaborate effectively in search of solutions. Consulting, reaching out for help to a third-party, can bridge the gap between your business marketing experts and IT operations experts, especially with the emergence of big data analytics and its implication on the global market. Having the right consultants equipped with business knowledge and data technology expertise can make a difference.

Your marketing organization is probably familiar with digital tools and conducting global research. Its results can uncover the journey customers take to purchase your products or use your services. It can highlight the pain points and frictions that prevent their experiences with you to be delightful and amazing. Armed with this knowledge and beautiful compelling presentations, marketing executives expect that IT operations leaders will translate these insights into actions.

But people in IT operations are too involved in meeting key performance indicators that have nothing to do with the end customers. Meeting requirements of faster and cheaper don't translate very well into customer satisfaction. A classic breakdown in communication is described in a Harvard Business Review article, "A Technique to Bridge the Gap Between Marketing and IT." The author goes on to describe how a new CIO at a bank found IT to be focused on the internal organization as their customers, rather than the real end customer. Moreover, no one was looking at the incident reports which clearly showed that incidents were increasing. And nobody looked at what these incidents were doing to the bank's customers. The startling and scary numbers of incidents were caught and addressed and brought down from 1,000 to 600 or (40%) and later to 450 per week.
Surprisingly, these type of seemingly isolated scenarios are still being discovered within organizations presently, sometimes internally, and through third party insights such as consultants. By engaging consultants to provide a perspective based on what they've experienced before, they can often bring new and innovative ideas or possible challenges to the table that an internal processes probably wouldn't have been able to see on their own. Often, third party input can help to provide the translation needed to go from marketing research results into actions that IT operations can understand and make sense in their high-performance culture. When companies understand and use this knowledge to reassess how to improve their customer experiences, they work backward from what customers want to achieve significantly higher improvements.

IT and business management are more and more being asked to move away from their traditional roles, such as IT being the "technology infrastructure gatekeeper", and instead become enablers across the enterprise of effective collaboration, big data consumers, and key players in driving desired business outcomes. Marketing leaders look to technology as a way to facilitate the customer's journey and his positive experience of it, bring more clients, and meet increasingly higher loyalty goals. They rely on IT projects to enable big data-based behavioral targeting anywhere in the global market. This means projects to analyze search engine results, improve website personalization and optimization, and building of mobile applications for a more personal experience. All these are projects that consultants with their communication, consulting and technical expertise are well prepared to help in order to bridge the expectation gap between IT and other business organizations.

In order to meet these 21st-century business challenges, Information Technology organizations have been transitioning from waterfall stage-gate project management approaches to agile development. The stage-gate method applies a step-by-step approach where waiting, reviewing and approving are required before moving to the next step in the project. Agile management emphasizes collaboration, no decision hierarchies, and few people roles for making quick, customer-focused small changes over time to deliver solutions that delight and amaze customers. Agile development has allowed many businesses to respond quickly to changing customer desires and expectations. But moving to continuous delivery is a struggle requiring focused, dedicated teams that are not well suited to the traditional matrix organization where people are resources whose time must be "chopped" into many pieces and shared among many projects. Agile teams meet frequently as often as daily but never waiting more than a week to do so.

Marketing people are externally focused. IT people are internally focused. The first works with customer emotions. The second works to increase efficiency. Big data analytic tools are used by the first and supported by the second. Consultants can be the glue that helps both come together in effective collaborations that deliver positive business outcomes in both global and local markets.

Teaching You Tools to Become Empowered
To build a successful business and career, you must always keep up with changes in the IT Marketplace. AWS, Office 365, LinkedIn, Sales Force, SEO, Social Media are just a few examples of where knowledge is a huge factor for success.
Training with HSG addresses your knowledge gaps and provides you with the requisite tools to outpace the competition.
other blog entries
Course Directory
[training on all levels]
Technical Training Courses
Software engineer/architect, System Admin ... Welcome!
Business Training Courses
Project Managers, Business Analysts, Paralegals ... Welcome!
Upcoming Classes
Gain insight and ideas from students with different perspectives and experiences.
did you know?
HSG is one of the foremost training companies in the United States
Information Technology Training that enables companies to build better applications and expertly manage the software development process.
Our courses focus on two areas: the most current and critical object-oriented and component based tools, technologies and languages; and the fundamentals of effective development methodology. Our programs are designed to deliver technology essentials while improving development staff productivity.
Personalized courses for unique business and technology needs
An experienced trainer and faculty member will identify the client's individual training requirements, then adapt and tailor the course appropriately. Our custom training solutions reduce time, risk and cost while keeping development teams motivated. The Hartmann Software Group's faculty consists of veteran software engineers, some of whom currently teach at several Colorado Universities. Our faculty's wealth of knowledge combined with their continued real world consulting experience enables us to produce more effective training programs to ensure our clients receive the highest quality and most relevant instruction available. Instruction is available at client locations or at various training facilities located in the metropolitan Denver area.
consulting services
we do what we know ... write software
Design and Development
Application lifecycle management
We generate use cases, UML documentation, architect the system, create an object model, iteratively develop the system, unit and system test and modularize where necessary. These types of engagements are typically longterm and, almost always, incorporate a variety of software technologies.
If you are in need of expertise but only require the assistance of one or two engineers, the Hartmann Software Group can be of help. Instead of procuring talent by way of a placement agency who is likely to contact us, come to the Hartmann Software Group directly. You may realize some savings.
Mentor
The best way to learn is by doing.
The coaching program integrates our course instruction with hands on software development practices. By employing XP (Extreme Programming) techniques, we teach students as follows:
Configure and integrate the needed development tools
MOntitor each students progress and offer feedback, perspective and alternatives when needed.
Establish an Action plan to yield a set of deliverables in order to guarantee productive learning.
Establish an Commit to a deliverable time line.
Hold each student accountable to a standard that is comparable to that of an engineer/project manager with at least one year's experience in the field.
These coaching cycles typically last 2-4 weeks in duration.
Provide Expertise
Services for your business growth.
With the introduction of smart devices, e-marketplaces, electronic forms, SEO practices, big data, virtual office environments, media streaming and so much more, there is hardly a business whose livelihood is not, in some way, dependent upon the inclusion of such software functionality into its online presence, work environment and product offerings. Such inclusion often presents a complex array of challenges that are far beyond the expertise of the business as it demands an understanding of technological options, modular decomposition, backend systems integration and web services. Most importantly, the business requires IT talent and expertise; this is where the Hartmann Software Group shines. To that end, here is an overview of some of the services that we offer:
Business Rule isolation and integration for large scale systems using Blaze Advisor
Develop Java, .NET, Perl, Python, TCL and C++ related technologies for Web, Telephony, Transactional i.e. financial and a variety of other considerations.
Windows and Unix/Linux System Administration.
Application Server Administration, in particular, Weblogic, Oracle and JBoss.
Desperate application communication by way of Web Services (SOAP & Restful), RMI, EJBs, Sockets, HTTP, FTP and a number of other protocols.
Graphics Rich application development work i.e. fat clients and/or Web Clients to include graphic design
Performance improvement through code rewrites, code interpreter enhancements, inline and native code compilations and system alterations.
Mentoring of IT and Business Teams for quick and guaranteed expertise transfer.
Architect both small and large software development systems to include: Data Dictionaries, UML Diagrams, Software & Systems Selections and more