What Are New Career Choices in Information Technology In The Last 10 Years?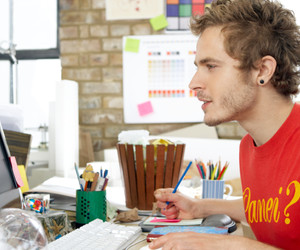 The future looks just as bright for information technology as it did ten years ago when this career field started growing in huge numbers due to major internet technological advances and the popularity of mobile devices such as the smartphone and eReaders like Amazon's Kindle. In classrooms and libraries across the nation, information technology has become instrumental in the way students learn and the way teachers give lessons, and thanks to online education more adults have access to a better education without incurring a lot of debt. Needles to say, the need for qualified workers in information technology will continue in times to come. Some of the technological careers that are rapidly growing in popularity in the last decade are a direct reflection of current trends.

Teaching You Tools to Become Empowered
To build a successful business and career, you must always keep up with changes in the IT Marketplace. AWS, Office 365, LinkedIn, Sales Force, SEO, Social Media are just a few examples of where knowledge is a huge factor for success.
Training with HSG addresses your knowledge gaps and provides you with the requisite tools to outpace the competition.
Information Technology Managers

The information technology manager is responsible for handling all computer activities for a business and performs upgrades on computer software and hardware, installs new security features on computers, creates budgets and goals for the IT department, supervises other IT employees and troubleshoots computers when needed. According to the Bureau of Labor Statistics, there were 332,700 information technology management jobs filled in 2012 and a majority of these positions were in the computer systems sector. Most information technology managers hold a bachelor's degree in computer science or information technology, and a growing number of employers prefer a graduate degree. The job growth is expected to grow at 15% between now and 2022.

Mobile Application Developers

This job will grow by leaps and bounds as millions of people continue to purchase mobile devices and download apps for business and entertainment purposes. It creates expanded opportunities for those who want to become mobile application developers. A mobile application developer often works with other developers to create mobile-friendly apps or mobile-friendly versions of business websites for consumers. The developer may have his own firm or he may be employed with a larger company, and he will need to understand the basics of web design and different kinds of codes to succeed in this career. The Bureau of Labor Statistics states that the job growth is expected to be at 28% by 2020.

Health Information Technology

Another fast growing sector within information technology is health information technology and there are various jobs to choose from. You can work with health insurance providers and your duties would include processing patients' insurance claims and managing patients' insurance information using a computer database. Another option is to work as a medical biller in a doctor's office preparing patient's invoices. The good thing about these jobs is that you do not need a four-year degree to get the training; you can obtain a two-year associates degree or a certificate in health information technology.

Search Engine Optimization Consultant

This is an important information technology career because most businesses have websites and if these websites are going to receive high traffic from visitors and earn profit, proper search engine optimization is necessary. The SEO consultant's job is to ensure that a business website gets high rankings on the major search engines and plenty of traffic from visitors. A good SEO consultant at a minimum will know how to research keywords effectively and implement these into the website's content based on the website's theme and he would utilize web analytics as part of the job. An SEO consultant may work on a freelance basis or be employed with an advertising company as an example.

Best Cities for Technology Careers

If you're thinking about relocating for your career, here are some of the best cities currently for information technology jobs listed in Forbes.
#1 Seattle is an excellent city for this kind of job because companies such as Microsoft and Boeing are there, and you can also work with some of the up-and-coming start-ups.
#2 Washington-Arlington-Alexandria, DC-VA-MD-WV… There has been a 20.6% growth in tech employment since 2001 in these locations.
#3 San Diego-Carlsbad-San Marcos, CA…The area has seen strong growth in such fields as biotechnology and other life and physical sciences research.
#4 Salt Lake City, UT…Large companies are starting to migrate to Utah because they are drawn to benefits such as lower taxes and the serene landscape.
#5 Baltimore-Towson, MD…"The Baltimore metro area has benefited from the expansion in federal spending, logging 38.8% growth in tech jobs over the past 10 years and 17.2% growth in STEM."
#6 Jacksonville, FL…The 7.4% growth is attributed to a boom in data centers, computer facilities management, custom programming and systems design occurring early in the past decade.
#7 San Jose-Sunnyvale-Santa Clara, CA… Silicon Valley remains a hot bed for a lot of large proportion of tech and STEM jobs in the nation.
#8 Columbus, OH… Affordable and business friendly, Columbus has experienced a 31% growth in tech jobs over the last ten years.
#9 Raleigh-Cary, NC…Can't beat the low cost living combined with a need for skilled talent.
#10 Nashville-Davidson-Murfreesboro-Franklin, TN…Even though the STEM jobs is comparatively lower than other cities, Nashville has seen an increase of 43% in data processing and systems design. Techie jobs are a plus to the growing demand in this notorious music capital.

The field of information technology is diverse and continues to contribute to the national economy in substantial ways. If you are new to the endeavor of pursuing an IT career, you can get started by obtaining an associate's degree or a full blown computer science degree. The Information Technology Skill Gap and Demand is still a factor in the U.S, as not enough graduates are choosing to major in computer sciences. While in school, think about securing an internship at a local company so that you will have some work experience after graduation.
other blog entries
Course Directory
[training on all levels]
Technical Training Courses
Software engineer/architect, System Admin ... Welcome!
Business Training Courses
Project Managers, Business Analysts, Paralegals ... Welcome!
Upcoming Classes
Gain insight and ideas from students with different perspectives and experiences.
did you know?
HSG is one of the foremost training companies in the United States
Information Technology Training that enables companies to build better applications and expertly manage the software development process.
Our courses focus on two areas: the most current and critical object-oriented and component based tools, technologies and languages; and the fundamentals of effective development methodology. Our programs are designed to deliver technology essentials while improving development staff productivity.
Personalized courses for unique business and technology needs
An experienced trainer and faculty member will identify the client's individual training requirements, then adapt and tailor the course appropriately. Our custom training solutions reduce time, risk and cost while keeping development teams motivated. The Hartmann Software Group's faculty consists of veteran software engineers, some of whom currently teach at several Colorado Universities. Our faculty's wealth of knowledge combined with their continued real world consulting experience enables us to produce more effective training programs to ensure our clients receive the highest quality and most relevant instruction available. Instruction is available at client locations or at various training facilities located in the metropolitan Denver area.
consulting services
we do what we know ... write software
Design and Development
Application lifecycle management
We generate use cases, UML documentation, architect the system, create an object model, iteratively develop the system, unit and system test and modularize where necessary. These types of engagements are typically longterm and, almost always, incorporate a variety of software technologies.
If you are in need of expertise but only require the assistance of one or two engineers, the Hartmann Software Group can be of help. Instead of procuring talent by way of a placement agency who is likely to contact us, come to the Hartmann Software Group directly. You may realize some savings.
Mentor
The best way to learn is by doing.
The coaching program integrates our course instruction with hands on software development practices. By employing XP (Extreme Programming) techniques, we teach students as follows:
Configure and integrate the needed development tools
MOntitor each students progress and offer feedback, perspective and alternatives when needed.
Establish an Action plan to yield a set of deliverables in order to guarantee productive learning.
Establish an Commit to a deliverable time line.
Hold each student accountable to a standard that is comparable to that of an engineer/project manager with at least one year's experience in the field.
These coaching cycles typically last 2-4 weeks in duration.
Provide Expertise
Services for your business growth.
With the introduction of smart devices, e-marketplaces, electronic forms, SEO practices, big data, virtual office environments, media streaming and so much more, there is hardly a business whose livelihood is not, in some way, dependent upon the inclusion of such software functionality into its online presence, work environment and product offerings. Such inclusion often presents a complex array of challenges that are far beyond the expertise of the business as it demands an understanding of technological options, modular decomposition, backend systems integration and web services. Most importantly, the business requires IT talent and expertise; this is where the Hartmann Software Group shines. To that end, here is an overview of some of the services that we offer:
Business Rule isolation and integration for large scale systems using Blaze Advisor
Develop Java, .NET, Perl, Python, TCL and C++ related technologies for Web, Telephony, Transactional i.e. financial and a variety of other considerations.
Windows and Unix/Linux System Administration.
Application Server Administration, in particular, Weblogic, Oracle and JBoss.
Desperate application communication by way of Web Services (SOAP & Restful), RMI, EJBs, Sockets, HTTP, FTP and a number of other protocols.
Graphics Rich application development work i.e. fat clients and/or Web Clients to include graphic design
Performance improvement through code rewrites, code interpreter enhancements, inline and native code compilations and system alterations.
Mentoring of IT and Business Teams for quick and guaranteed expertise transfer.
Architect both small and large software development systems to include: Data Dictionaries, UML Diagrams, Software & Systems Selections and more